VBE External

All Grades & Materials

All Sizes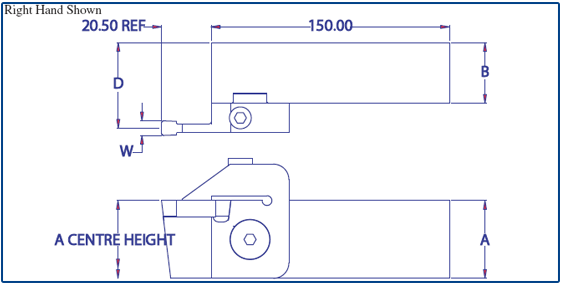 Insert

Dimensions

W (min)

W (max)

A

B

C

D

Order Reference

.125
(3.18)

.156
(397)

25

25

40

35.60

32

25

47

35.60

.157
(3.98)

.218
(5.56)

25

25

40

35.20

SBC 125/126
R/L

32

25

47

35.20

.219
(5.57)

.250
(6.35)

25

25

40

35.20

SBC 125/126
R/L

32

25

47

35.20

.251
(6.36)

.312
(7.94)

25

25

40

34.50

SBC 125/126
R/L

32

25

47

34.50

.313
(7.95)

.375
(9.52)

25

25

40

33.50

SBC 125/126
R/L

32

25

40

33.50
1. Standard 010xM8x16LG Shoulder screw for support blade.
2. Clamp screw STC-11
3. Support blade can be used with either 2525 or 3225 shanks.
4. Blade & clamp are supplied as one unit - set up DIM = D+1/2 insert width.
5. Add FNR to support blade reference when ordering inserts with full nose radius.

VBI Internal

All Grades & Materials

All Sizes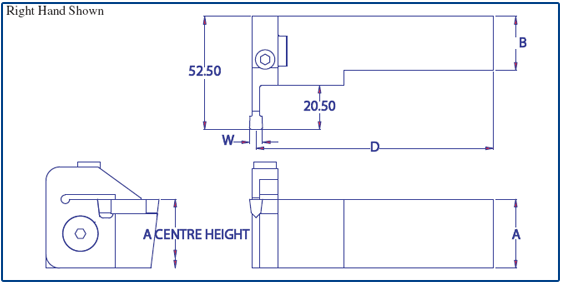 Insert

Dimensions

W (min)

W (max)

A

B

C

D

Order Reference

.125
(3.18)

.156
(397)

25

25

40

35.60

32

25

47

35.60

.157
(3.98)

.218
(5.56)

25

25

40

35.20

SBC 125/126
R/L

32

25

47

35.20

.219
(5.57)

.250
(6.35)

25

25

40

35.20

SBC 125/126
R/L

32

25

47

35.20

.251
(6.36)

.312
(7.94)

25

25

40

34.50

SBC 125/126
R/L

32

25

47

34.50

.313
(7.95)

.375
(9.52)

25

25

40

33.50

SBC 125/126
R/L

32

25

40

33.50